Graduates studies
1- (Finally) make your own choices
If you write a thesis, you will FINALLY be able to study that topic that you are so passionate about! Your scientific undertaking may offer society a new way of seeing and understanding the world in which it evolves. In parallel, you benefit from the support of a research director. And nothing can stop you from choosing a professor with whom you've always dreamed of working for their knowledge, their aura, their teaching style, etc. What luxury!
2- Influence the future through your research
At the graduate level, you can push the limits of knowledge! You generate ideas, hypotheses, research questions, interpretations and original analyses. Your research could have a major impact on the world of health, anthropology, physics, communications, literature, etc. The answers that you come up with can make a real difference in the lives of people. All fields of study are important!
3- Choose a multidisciplinary path
UdeM offers the possibility of studying in a completely different program than that of your undergraduate studies and of exploring a whole new field. For example, you can have a Bachelor's in psychology and, of course, continue in psychology, but you could also go on to study planning, public health or education science. Atypical paths have a richness, they allow you to acquire complementary competences. Why hold back?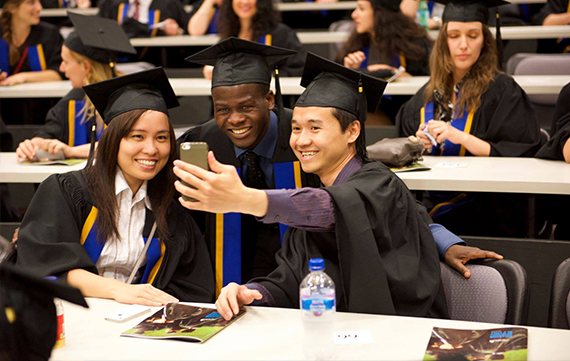 4- Take advantage of what the university offers
By studying at the Université de Montréal, you benefit from permanent support from your research director and professors. You have access to on-campus libraries, dynamic staff, scholarships, bustling community life, and much more! You can also enjoy the collaborating with and being inspired by your peers (enlightened nuts such as yourself!) which makes for enriching and stimulating experiences.
5- Study to find a job that suits you
Certain professions such as architect, psychologist, social worker and physical therapist, among others, require graduate studies. Of course, you can finish with a Bachelor's degree in each of these programs, but you will not be admissible to the Order of psychologists of Quebec without a doctorate in psychology, for example. Think about it! In several fields, even if graduate studies are not mandatory, they open doors to more prestigious work and new perspectives, offering more control over future work opportunities.
6- Share your passion
And what if you were research assistant? You could help professors, researchers or research groups with their research projects. You could also be a lecturer and share your knowledge with undergraduate students. What prestige! And who knows, maybe you will make a difference in someone's university experience… Don't forget that these are paid activities that offer you income during your graduate studies.
7- Allow your studies to transform you
No lies here: you have to be a little crazy to undertake graduate studies! But it's a sweet madness that will help you expand your limits. After your studies, a real springboard into the job market, you'll feel proud of having finished a long-term project. Without realizing it, you will have learned to manage stress, develop your autonomy as well as a strong spirit of analysis and synthesis, and even adopt a work ethic. This alone!
8- Obtain recognition and a certain renown
People who have completed graduate studies are often recognized as "highly-qualified employees". With the high levels of competition in certain professional fields, having a Master's or Doctoral degree lends an obvious advantage. Your knowledge and capacity for reasoning allow you to stand out from other candidates and bring added value to a company. It's good for the CV! Don't forget that graduate studies also give you, among other things, the opportunity to coauthor an article in a scientific journal with your research director. It's a great way to gain recognition as an expert in your field, as specialized as it may be.
9- Ensure a steady future for yourself
Studying at the graduate level is also imagining the possibility of obtaining a higher salary and more promotions, as well as, and especially, the security of a stable job that meets your expectations. "We have nothing without giving something": to get there, you'll have to work hard and make sacrifices, dedicate time, not count your hours, and be satisfied with a student budget. No matter what happens, pursue studies for yourself and only yourself! Don't regret anything.
10- The pride of self-actualization
At the end of your path, you will feel an immense feeling of pride and accomplishment. Several years down the road, you will be able to savour your victory by looking back on the path taken and by benefiting from what your graduate studies will have brought you along your life. You'll thank yourself…
About the author
Daisy Le Corre
Daisy is a journalist and project manager with Admissions and Recruitment Services (SAR). Lover of words and of people's lives, her head is always full of ideas! Full disclosure: she worships Catulle Mendès, the author that inspired her to study androgyny in 19th century decadence literature. Which is also why she is pursuing research in literature at UdeM…
Globe trotter
Quick-Quotes Quill
Queer