Request a change
This page applies to you if you are studying in a regular program at UdeM since more than 4 weeks and:
You wish to withdraw from an undergraduate program and would like to begin another.
You would like to change your graduate program within the same discipline.
To do this, you must complete a new application using your UdeM identification and close your Centre étudiant session, if applicable. This will allow you to access the Change of Program features. Processing your file incurs non-refundable fees.
Complete the form
First, you must access the application form using your UdeM identification code (login) and password (UNIP).
When you access the Choice of Programs page, you will be asked if you plan to withdraw from your current program of study.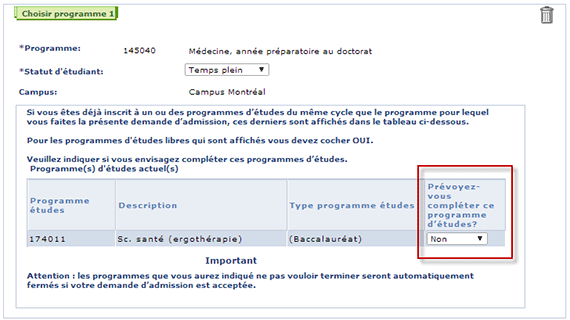 In order for your request to be considered as a Change of Program, you must answer "Non" to all of the active programs in your file.
If you answered "Oui", it indicates you want to graduate from the program in which you are currently registered. Your new request will then be considered as a regular application for admissions.
N.B.: If you receive an offer of admission for the new choice(s) of program requested and you accept, your current program will end when the session of your new program begins. Conversely, if your application is refused, you will continue in your current program.
Modify a choice of program after submitting a request
If you have already applied for a change of program and would like to modify your choice to another program in the same session, you must complete the form provided. Non-refundable fees apply. See the Modify an Application page.
---
Try compass, the interactive checklist
To facilitate the submission of your application, use the interactive checklist Compass, designed exclusively for the Université de Montréal. It will guide you through this important step.