Student life | Housing
It's relatively easy to find housing in Montreal. Rents are less expensive than in other major European and North American cities, such as Paris or Toronto.
Off-campus housing
Plan to budget about $600 per month for a room in a shared apartment or about $1,000 per month if you want to rent your own studio apartment. Leases in Quebec are for 12 months and sometimes include heat, hot water and electricity. Before you sign anything, make sure that the accommodation, including utilities, fits your student budget.
"Start looking in the spring to get the best deals," advised Sébastien, a French graduate at the Université de Montréal. "Don't hesitate to reserve in advance by phone and to ask for photos and videos. The Université de Montréal's off-campus housing office (in French) has lots of options for you, especially for roommates.
If you prefer to apartment hunt in person, plan to arrive "at least four to five weeks before classes start", Sébastien added.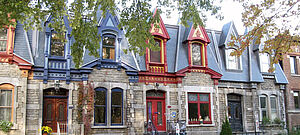 Furnished or semi-furnished
"To avoid buying furniture or appliances, look for furnished or semi-furnished apartments. You can also check out websites like kijiji.ca or lespac.com."
Second-handshopping on Facebookis also popular, as well as in stores like the Salvation Army and Renaissance. They're cheap and cheerful ways to furnish your nest and help the planet by avoiding over-consumption.
"I've been living here for five years and I've never bought a single piece of furniture!" said Alexandre, a student in Communication Sciences at the Université de Montréal. He regularly snaps up furniture his neighbours have discarded on the sidewalk."Salvaging is an art in itself and it works."
Choosing the right neighbourhood
For Sébastien, Côte-des-Neiges is the best place to live if you're studying at the Université de Montréal. "This student neighbourhood, on the outskirts of the university, has a greatchoice of reasonably priced cafés and restaurants. Rents are relatively moderate and downtown is only 25 minutes away by metro."

Côte-des-Neiges Neighbourhood © Gabriel Tremblay
Mile End is a good place to go when you're studying at UdeM: "You're a 15-minute bike ride from the university. It's an English-speaking neighbourhood where you can find everything you need: trendy bars, vegetarian/vegan restaurants, street art, small independent boutiques...", Alexandre added.
Élise, an Optometry student at UdeM, agrees: "Mile End is a great place to live. The neighbourhood is very diverse and everyone co-habits well, but it's trendy and quite expensive, so it may not suit a student budget."
LIVING NEAR UDEM: TOP 5 NEIGHBOURHOODS (in French)
On a budget? Check out the Rosemont-La Petite-Patrie neighborhood, located near the Jean-Talon, De Castelnau, Jarry, Fabre and Beaubien metro stations. "You have access to two metro lines (Blue and Orange), a big,beautiful market with cheap fruits and vegetables (JeanTalon market), the fantastic restaurants of Little Italy and a huge park for sports and picnics with friends (Jarry Park)", said Sébastien.
Discover the neighbourhoods near UdeM and more on Likehome.info, the go-to place for student housing in Montreal
Living in a university residence
Students at UdeM also have a choice of university residences. They're a good place to start for first-year students or for short-term stays. The rate is $402 per month for a single studio with a shared bathroom and $757 for a studio with a private bathroom. Living rooms and kitchens are shared. Leases are for eight months, from September 1 to April 30, to coincide with the study period.
Living in residence is an easy way to meet other students and to simplify your living arrangements. What's more, the rooms are located on campus, close to all the facilitiesand amenities: gym, swimming pool, student cafés, etc.
Please note: each year, you can apply for housing as early as March 1 by visiting the university's residence hall site (in French)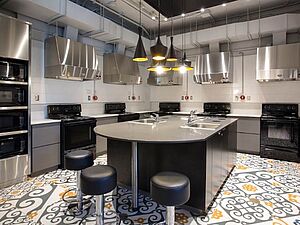 The shared kitchen of UdeM's student residences.
Decoding a housing ad in Québec
Did you know that when it comes tothe number of rooms, a whole number refers to the number of rooms and the ½ refers to the bathroom (including the toilet)? if you choose a 3½, that means an apartment with a living room, a kitchen, a bedroom and a bathroom. If you choose a 1½, that's a studio apartment with a bathroom and a main room that triples as a living room, dining room and bedroom.
If the apartment has a locker, that means you'llbe able to store your bulky things in a storage space. Usually, the locker is located inside the building or apartment.
"All-included"means that the landlord pays for the heating, hot water and electricity. You won't pay anything more than the agreed-upon rent. If nothing is included, then you pay for all the utilities.
Finally, let's translate a few important words: a "poêle" is a stove, a "laveuse" is awashing machine and a "sécheuse" is a dryer. Before renting an apartment, make sure that it has the proper appliance hook-ups. Make all the right moves before you move in...and then make yourself at home!
About the author
Daisy Le Corre
Daisy is a journalist and project manager with Admissions and Recruitment Services (SAR). Lover of words and of people's lives, her head is always full of ideas! Full disclosure: she worships Catulle Mendès, the author that inspired her to study androgyny in 19th century decadence literature. Which is also why she is pursuing research in literature at UdeM…
Globe trotter
Quick-Quotes Quill
Queer