Candidates who have applied to UdeM will receive an email telling them that their admission letter has been made available in their Student Center. What happens after we're accepted?
Accept your offer of admission
All students must accept their offer of admission if they wish to attend UdeM. In accepting your offer, you confirm that you do intend to study at UdeM and you thereby reserve a spot for yourself.
The deadlines to accept the offer vary according to each student's situation, read your admission letter closely to know yours!
For assistance in accepting an offer of admission, see the following FAQ section.
---
Enroll in courses
Course enrollment for admitted graduate students is done by department staff. Orientation sessions are organized to guide students in their choice of courses and to introduce them to the professors. Your department will communicate with you soon, if it has not already done so.
The Graduate and Postdoctoral Studies (ESP) also offer publications outlining important information pertaining to graduate studies.
---
Ask your questions
Do you have questions concerning your arrival at UdeM, your program of study, or the next steps to take? You can direct them to student ambassadors that have gone through the same steps as you or to professionals that know UdeM and Montreal like the back of their hands!
Join the Facebook UdeM+1 group for newly-admitted student.
Regularly consult the Events section to know about webinar dates and chat sessions organized for newly-admitted students!
---
Begin the Immigration Process
If you are an international student (that is, if you are neither a Canadian citizen nor a permanent resident in Canada), you must begin the immigration process as soon as you receive your letter of admission (even if it is a conditional letter of admission). Keep the original documents that you uploaded for your application at hand. UdeM could request them at all time for monitoring purposes.
Each international student needs a Certificat d'acceptation du Québec (CAQ) and a study permit in order to enroll at the Université de Montréal. We recommend that you begin the process as soon as possible, as it can take several weeks to complete. Don't hesitate to send any question you may have about the process to the Bureau des étudiants internationaux (BEI), which is there every step of the way to guide and assist you.
To apply for a Certificat d'acceptation du Québec (CAQ) and a study permit, you must attach the two letters you received from the university in a single document: the offer of admission and the letter of acceptance. For more information about the way to submit supporting documents, consult our section Preparing your documents.
---
Enjoy back-to-school activities!
The Student Services office concocts a yearly welcome week full of activities! It's the ideal time to explore your new campus, meet other students and learn more about the cultural and social activities at UdeM.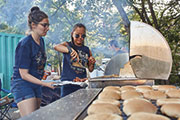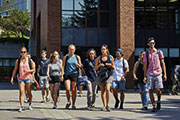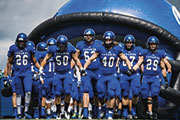 ---
Live your UdeM!
Enjoy a multitude of courses and activities, interest groups and student associations to tailor your time at UdeM to your own interests.
Your university studies are an important time: make them an unforgettable experience!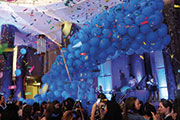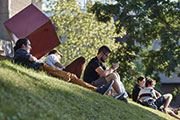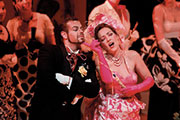 ---
Try compass, the interactive checklist
To know everything about what happens after you submit your application, use the interactive checklist, Compass, designed exclusively for the Université de Montréal.