Being an athlete at UdeM is 100% possible!
The Centre d'éducation physique et des sports de l'Université de Montréal (known as CEPSUM), located in the heart of the UdeM campus, is one of the largest sports complexes in Quebec. There, you can find modern athletic facilities that will likely have what you're looking for: a competition pool, diving pool, rink, training room, indoor track, climbing wall, dance room, etc. The CEPSUM also hosts several sports leagues and clubs, as well as the famous Carabins!
Whether you want to simply stretch your legs or practise an elite sport, everything is possible at UdeM (even... joining the Quidditch team!).
The CEPSUM
The CEPSUM is...
more than 184m of running track
more than 250 activities of all kinds
more than 900m2 of training room
more than 1,200m2 of Olympic pool
more than 1,586m2 of indoor rink 2 outdoor stadiums (one for football and one for soccer!)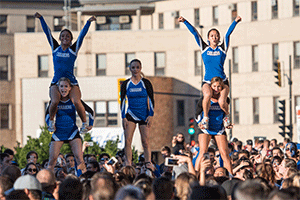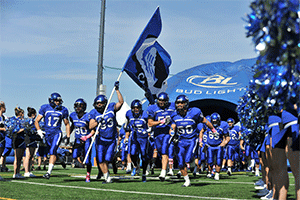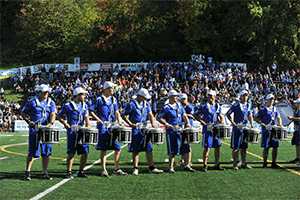 ---
Sports leagues and clubs
You'd like to join a team of students who, like you, want to be active? With the Université de Montréal's sports clubs, you can practise your favourite sport while you're a student. Take your pick! Track and field, Crew, Badminton, Baseball, Cricket, Cross country, Lacrosse, Cycling, Hockey, Quidditch, Downhill skiing, Squash, Triathlon, Ultimate Frisbee, Basketball, Soccer, Spikeball, Tennis, Volleyball, etc.
---
The Carabins: the force on the mountain
Carabins, it's the name of the Université de Montréal's elite sports teams. They're blue, they're in all the competitions, and they're the best! At least, this is what the entire UdeM community thinks...
The Carabins include nearly 400 UdeM athletes in a dozen sports: track and field, badminton, cheerleading, football, golf, hockey, swimming, rugby, alpine skiing, soccer, tennis, and volleyball.
Go Blue!