UdeM's new Find Your Path test: ideal for finding your way
Application guidance | Planning your academic journey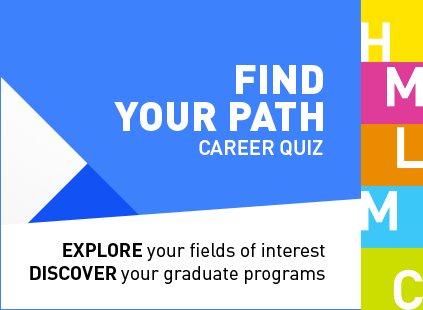 The Find Your Path test is an exclusive, practical and fun took made available to you by the UdeM to help you determine the programs of study that correspond best to your interests. This exploratory online tool allows you to concretely:
To discover your fields of interests and your personality traits To explore the profiles of professionals working in a job related to your interests To choose the program that inspires you How does this test work? You answer questions about your personality to determine what makes you vibrate the most: culture, people, matter, life, or management.
Once your dominant profile is established, you respond to several additional questions to determine the types of programs that respond to your profile. When the test is over, a list of programs adapted to your personality is offered to you! You can then consult the program pages with varied information to refine your choice: program presentation, structure and courses, prerequisites, employment opportunities, etc. Following the test, you can submit an application directly online. Don't wait to (re)discover your path!
#Globe trotter
#Quick-Quotes Quill
#Queer
Daisy is a journalist and project manager with Admissions and Recruitment Services (SAR). Lover of words and of people's lives, her head is always full of ideas! Full disclosure: she worships Catulle Mendès, the author that inspired her to study androgyny in 19th century decadence literature. Which is also why she is pursuing research in literature at UdeM…