Open House
1 - Register for the Open House and receive a gift
Registering for the Open House will help you stay in contact with UdeM! Registration is as easy as it gets: just click on the "Sign-up" button. Good to know: registered participants will receive a small UdeM-themed gift upon their arrival…
2 - Take the Find Your Path career quiz to determine the booth that suits you best
You'd like to start a Bachelor's degree, Master's degree or PhD but you're hesitating between several programs? To end the unbearable suspense, take the Find Your Path career quiz! It'll help you find the program that matches your interests before the Open House so that you can head directly to the booths that suit you best based on your results.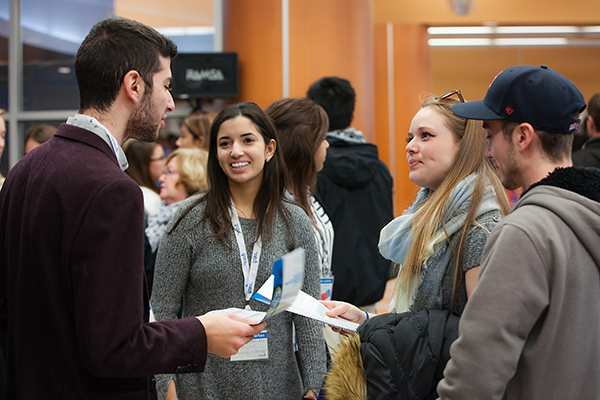 3 - Take note of the conference schedule
Don't hesitate to get a head start in checking out the conferences scheduled during the event. You will find all conference information here.
4 - Talk to students and professors who can answer your questions
Use your day to meet professors, students and experts who can answer your questions regarding undergraduate and graduate programs as well as the services offered at UdeM! You can find more information here.
5 - Prepare your questions ahead of time
Before your visit, set aside a bit of time to think of questions you may have for the admissions officers. It will make things much easier! Here are some examples of commonly asked questions: How can I increase my admission rating? How can I get accepted into the health programs? How do I submit an application? etc. Answers on January 28th…
6 - Use public transportation
Arrive early so you don't miss anything and use public transportation to get to the event as parking will be very limited. As a reminder, the closest metro stations are the Université de Montréal and Côte-des-neiges stops (both on the blue line). You can also use several bus routes that stop mere steps away from the building, such as the 51.
About the author
Daisy Le Corre
Daisy is a journalist and project manager with Admissions and Recruitment Services (SAR). Lover of words and of people's lives, her head is always full of ideas! Full disclosure: she worships Catulle Mendès, the author that inspired her to study androgyny in 19th century decadence literature. Which is also why she is pursuing research in literature at UdeM…
Globe trotter
Quick-Quotes Quill
Queer