5 reasons why Montreal is one of the top student cities in the world!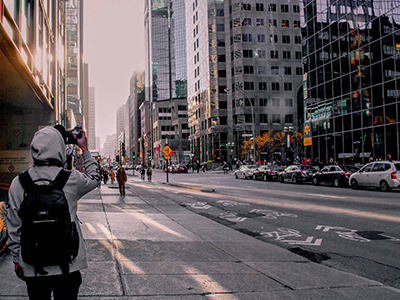 ---
A good place to live... and study.
Everyone agrees that living in Montreal is great! Since the community is very open-minded, welcoming and diverse, you'll feel at home here in no time. It's a safe city, bustling with activity day and night, year-round.
Greater Montreal's many renowned educational institutions also make the city attractive destination to study. It's a place where students can enjoy a good quality of life and a wide choice of disciplines to further their academic goals.
1. Affordable university costs
University education in Canada is quite affordable compared to many other countries. In Quebec, tuition fees for international students are among the lowest in North America. At the university level, it generally costs less to study in Quebec than elsewhere in Canada or in the U.S. for an equivalent quality of education (See: The advantages of studying in Quebec from Éducation et Enseignement supérieur, Gouvernement du Québec).
Read more :
2. A committed eco-responsible city
Although Montreal is a big, bustling metropolis, you can still breathe fresh air! The city is dotted with wooded parks, leafy lanes and bicycle paths. In fact, the city's goal is to significantly reduce its greenhouse gas emissions and become carbon neutral by 2050 by planting trees and creating even more green spaces.
What's more, most Montrealers show their support for the environment by composting and recycling.
3. Culture at the heart of urban life
Montreal has a happy mix of past, present and future. In many places, heritage buildings are nestled next to modern ones, which makes strolling through the city a visual treat. Art lovers will find lots to do, with a vibrant choice of museums, murals, libraries and festivals!
4. A world leader in artificial intelligence
Did you know that Montreal is a hub for artificial intelligence (AI) research? This is due, in part, to the work of Professor Yoshua Bengio of the Université de Montréal, a pioneer in deep learning and founder and scientific director of the Montreal Institute for Learning Algorithms (MILA). Major players such as Microsoft and Google have invested in Montreal's AI sector (investquebec.com).
Read more :
5. A huge year-round playground
There's no time to get bored in Montreal! Throughout the year, concerts, festivals (musical, circus and gastronomic) and pop-up art installations attract tourists and residents alike.
With all this going for the city, it's hard not to fall for Montreal! One thing we know, it's hard to leave once you've had a taste of life in the city. Will you be charmed by Montreal and make it your preferred place to study?
#Création de contenu
#Animation
#Fan de chiens
Sarah est agente de communication au SAR depuis l'automne 2020. Communicatrice passionnée, elle raffole de la création de contenu numérique, de l'évènementiel et de l'animation. Fière Montréalaise, elle est amoureuse de sa ville et de tout ce qu'elle a à offrir. Avec Sarah, vous vous sentirez toujours comique, comme elle a le rire très facile!