Student life | Housing
The hunt is relatively easy in Montréal. For starters, rent is a lot less than in other major cities, such as Paris or Toronto. And sometimes, you can even find a cozy place for a modest price.
Off-campus accommodation
Budget about $450 per month for a shared room in an apartment and a little more if you want to rent a studio by yourself. Leases in Montréal are for 12 months and sometimes include heating, water and electricity. But before signing your lease, check that the dwelling, including fees, fits your student budget. Make a plan!
"Start your search in the spring to get the best deals," advises Sébastien, a Université de Montréal graduate from France. "Line up your place in advance by calling and asking for photos." The housing data bank at the UdeM Off-Campus Housing Office is a great place to start your hunt for rents and roomies.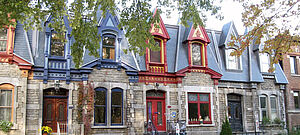 Furnished or semi-furnished
If you prefer to visit a place in person, plan to arrive "at least three weeks before classes start," suggests Sébastien. "Choose furnished or semi-furnished places so you don't have to buy furniture or appliances. Visit specialized websites, such as kijiji.ca or lespac.com."
"Montreal is a very urban, connected city, but it also has a cheap and cheerful side," says Alexandre, a student in Communication Sciences at the Université de Montréal. "I've lived here for five years and I've never bought a stick of furniture! In Montréal, reclaiming old furniture is an art… and it works wonders." Alexandre is always on the lookout for neighbour's cast-off furniture on the sidewalk. Take his advice and furnish your new home for less.
Choosing the right neighbourhood
Sébastien is convinced: "Côte-des-Neiges is the best neighbourhood if you study at the Université de Montréal," he says. "It's close to campus and it has an incomparable choice of affordable cafés and restaurants. Plus the rents are reasonable and downtown is just 15 minutes away by metro."

Côte-des-Neiges Neighbourhood © Gabriel Tremblay
Mile-End is also a good choice if you're studying at UdeM. "It's five minutes from campus by bike," says Alexandre. "It's a rather English neighbourhood with everything you need: vegetarian/vegan bars, lots of concerts, street art and great exhibitions at the Fresh Paint Gallery, among other things."
Elise, a student at the School of Optometry agrees. "Mile-End is a great place to live. The rents are low and the Jewish community adds to the neighbourhood's diversity. We live side-by-side very well."
Rosemont-La Petite-Patrie, a lively neighbourhood near Jean-Talon, De Castelnau, Jarry, Fabre and Beaubien metro stations, is also a good option for the budget-conscious. "It's close to two metro lines, a huge market with cheap fruits and vegetables, Little Italy and the fashion boutiques of Plaza Saint-Hubert," adds Sébastien.
Living in a university residence
UdeM student residences can be a simple solution for your first year of study or for a short stay. A single studio costs $385 per month, a studio with a private bathroom costs $726 per month, while lounges and kitchens are shared. Eight-month leases, from September 1 to May 1, coincide with the academic year.
Residences are an easy way to meet other students and make a smooth transition to university life. All rooms are located on campus, close to all the sports facilities, such as the gymnasium, swimming pool and more.
Note: You can register and submit a housing application on March 1 each year at http://www.residences-etu.ca/inscription.php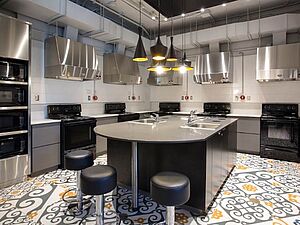 The shared kitchen of UdeM's student residences.
About the author
Daisy Le Corre
Daisy is a journalist and project manager with Admissions and Recruitment Services (SAR). Lover of words and of people's lives, her head is always full of ideas! Full disclosure: she worships Catulle Mendès, the author that inspired her to study androgyny in 19th century decadence literature. Which is also why she is pursuing research in literature at UdeM…
Globe trotter
Quick-Quotes Quill
Queer